Development of a Toilet Bowl Cleaner
Company : Darley Butler & Company Ltd.
Consultants:
Prof. D.T.U. Abeytunga (Chemistry)
Dr. H. Kathriarachchi (Plant Sciences)
Dr. P. Saputhanthri (Plant Sciences)
Dr. S. Ranwala (Plant Sciences)
Dr. M. Wijesinghe (Zoology)
Prof. D. De Silva (Zoology)
Research Assistant:
Mr. Chaminda Lakmal
---
Analysis of Total Available Phosphorus Content in Bio Fertilizers
Company : Bio Power Lanka (Pvt) Ltd
Consultants:
Dr. C. Nanayakkara (Plant Sciences)
---
Testing of Contaminated Air
Client : UNFPA office
Consultants:
Dr. R. Perera (Chemistry)
Dr. C. Hettiarachchi (Chemistry)
---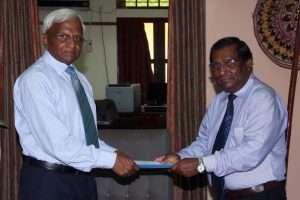 Signing the MOU on February 18, 2013: Acting Vice Chancellor Prof. T.R. Ariyaratne and Chairman, Kahatagaha Graphite Lanka Ltd, Mr. D. Kalansooriya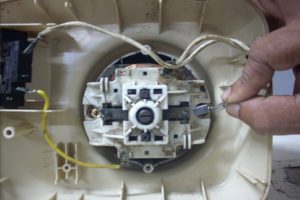 Graphite brush developed by the team being used inside a commercial blender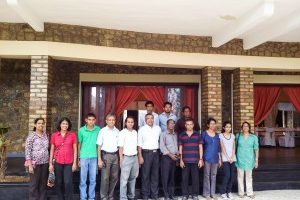 Factory visit to Kahatagaha Graphite Lanka LTD.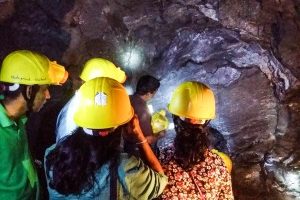 Inside the Kahatagaha mines.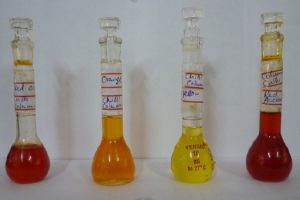 Few colour samples prepared under the project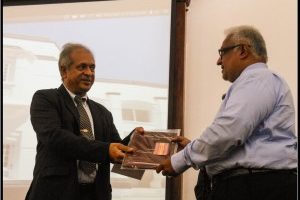 Submission of the Final Report to Mr. Jit Gunaratne
Consultants:
Prof. M.D.P. De Costa (Chemistry)
Prof. D.T.U. Abeytunga (Chemistry)
Dr. C. Hettiarachchi (Chemistry)
Dr. S. Ranwala (Plant Sciences)
Mr. H. Jayaweera (Physics)
Research Assistants:
Mr. Chaminda Lakmal
Mr. K.P.W. Lankathilaka
Mr. E.C.J. Perera